10 Camping Resolutions for an Adventurous 2023
Are you ready to make the most of your camping experiences in 2023? With the popularity of RV rentals and camping gear on the rise due to the pandemic, now is the perfect time to set some New Year's resolutions to help you make the most of your outdoor adventures. Whether you're a seasoned camper or just starting, these nine resolutions will help you create memorable and sustainable camping trips all year long.
Plan your trip 
Planning for your next trip is crucial for a successful and stress-free vacation. Make sure to book your accommodations early and think about the gear you'll need to bring. However, don't forget to leave room for spontaneous moments and detours. Try incorporating local ingredients into your meals or take a scenic route off the beaten path. A balance of planning and spontaneity will lead to a memorable and magical journey.
 Explore new places 
Experience the joy of camping all over again by trying new things and visiting new places. Step outside your comfort zone and try snowshoeing in the winter or visit a campsite you've never been to before. Mix up your meal plan by incorporating new ingredients or trying different cooking methods. Consider taking a food tour to discover the local flavors of the area and add some excitement to your trip. Don't be afraid to try new things and expand your horizons on your next camping adventure.
Find the perfect camping group 
Looking to enhance your camping experience by finding a group of like-minded individuals to share in your love of the outdoors? Facebook is a great resource to connect with local or global adventure seekers through groups Fans & Friends, Women Who Explore, 1000 Hours Outside, and the RV Lifestyle Group. These groups offer a wealth of knowledge on camping tips, supplies, locations, and hacks, as well as inspiration for outdoor activities like disc golf or camping with kids. You can also find specialized groups focused on food planning or sharing experiences from nature and wildlife locations around the world. Don't miss out on the benefits of joining a social media community of global nature lovers, campers, and adventure seekers.
Make it a family trip – 
Incorporate your children into the camping experience by allowing them to help set up the campsite, build a fire, and learn outdoor skills. These teaching moments can create lasting memories and even become skills passed down to future generations. Don't get so caught up in the logistics of camping that you forget to stop and play, learn, and explore with your children. If you don't have kids, consider sharing the work of preparing and hauling with your fellow campers to create a communal experience. Humans are wired to enjoy cooperative work and the resulting rewards together.
Gather Camping Inventory 
Start planning for your next camping trip by doing an inventory of your gear and supplies. Check what you have, what you need, what needs repairs, and what can be discarded. Use this time to search for deals on quality gear such as tents, cookware, and sleeping bags, rather than settling for "good enough" items at the last minute. Once you have the basics, customize your checklist for different seasons, including summer, fall, and winter if you camp throughout the year. A thorough inventory will make it easier to get ready for future camping trips during busy seasons.
Bring your friends 
Invite your loved ones to join in on the adventure and give them plenty of notice to see if the chosen dates work for them. Decide on a trip that everyone will enjoy, whether it's in tents, campers, or cabins. Consider using a shared document to organize plans, packing lists, and grocery lists. Not only will a large group add some fun new dynamics, but it's also a great way to share the work and the fun of a group campsite, beach campfire, or leisurely fishing trip. Don't forget that kids often cherish the opportunity to run wild with cousins or friends from dawn until dusk. Mixing solo or family trips with group outings ensures a perfect balance of relaxation, rejuvenation, romance, and fun throughout the year.
Start a camping tradition 
Start a new tradition on your next camping trip! It may take a few trips to get the hang of it and become comfortable, but it only takes one trip to fall in love with camping. As you continue to camp, you may tailor the experience to your personal preferences and create your own traditions, such as a fish-catching competition or nightly songs around the campfire. Feel free to try new things and step out of your comfort zone, as it's often when we seek new inspiration that we establish new traditions, like yearly ziplining tours or birdwatching excursions. No matter how you like to camp – in cabins, tents, RVs, or yurts – and whether you prefer relaxation or adventure, make your camping experience uniquely yours.
Take it slow 
Take it slow on your next camping trip and focus on making things easy and stress-free for yourself. If you've had negative experiences in the past, try going on hikes or kayaking trips instead until you feel ready to try camping again. Remember that every camping trip can be different depending on the location, timing, group, and ages of kids, if applicable. Seek out tips and tricks from other campers and explore new ideas online, like preparing food ahead of time and packing multi-purpose items like sporks and ponchos. Don't put too much pressure on yourself to have multiple trips in a season – sometimes one well-executed trip is more enjoyable than several rushed ones. Remember, camping is supposed to be fun!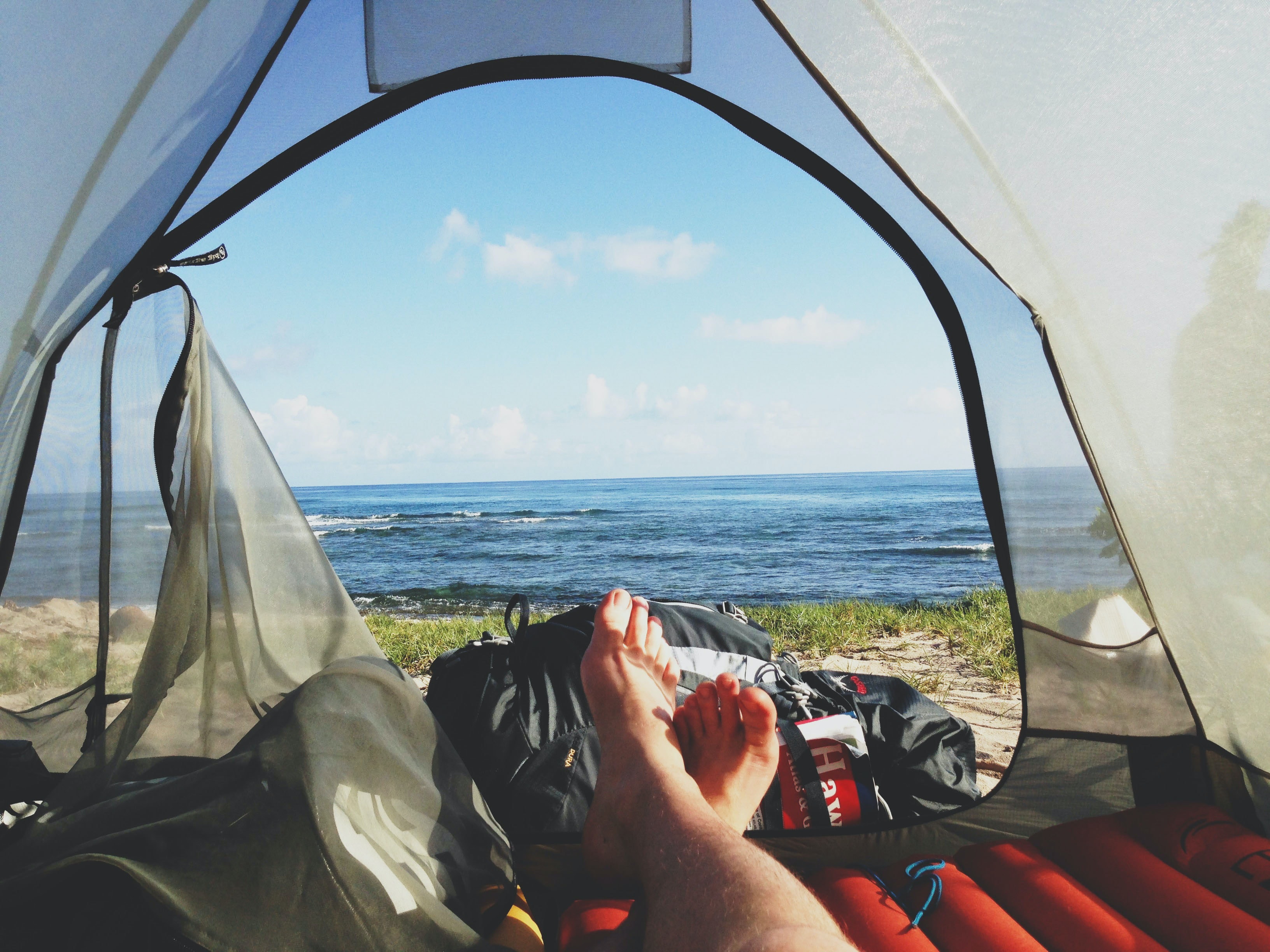 Let go of your worn-out gear
Don't let worn-out or outdated camping gear hold you back from having a great trip. If you have a favorite sleeping bag or tent that is past its prime or any other gear that is in need of replacing, take the time to refresh your supplies. This can be done one item at a time, so you don't have to break the bank all at once. Trustworthy gear is essential for a successful and enjoyable camping experience.
Enjoy your trip!
Even the worst camping trips can make for great stories to look back on and laugh about later. Keep a camping journal or log book to document your travels, including details about the location, group members and their ages, and any memorable or unexpected events. Don't forget to print out pictures from your trip, like ones taken at a waterfall or on a snowmobile trail. These memories may fade over time, but looking through old journals and photos will bring back the joy of past camping experiences.