Product Description
Inmarsat continues to bridge communications through the most remote of locations, knowing that the ever-growing digital society boundaries are made to be broken.
Inmarsat satellite phone offers service plans that are budget-friendly and fit your needs. For custom plans please call (800) 279-2366
Bgan Flex Plan
100 MB Plan $159.99/month
250 MB Plan $489/month
500 MB Plan $749/month
1 GB Plan $1189/month
5 GB Plan $2189/month
10 GB Plan $2890/month
30 GB Plan $4289/month
Inmarsat owns and operates 13 geostationary satellites. They continuously orbit over 22,000 miles above Earth staying in line with the equator. Each satellite fleet utilizes a mix of wide beams and narrow spot beams to ensure overlapping coverage around the globe. At this time (and you can see this on the coverage map visual), the polar regions cannot be reached by way of the current satellite setup. But Inmarsat's fully funded technology roadmap includes reaching the polar regions within the next few years.
You can read here for an in-depth overview of Inmarsat's entire network of satellites and how they operate to offer coverage.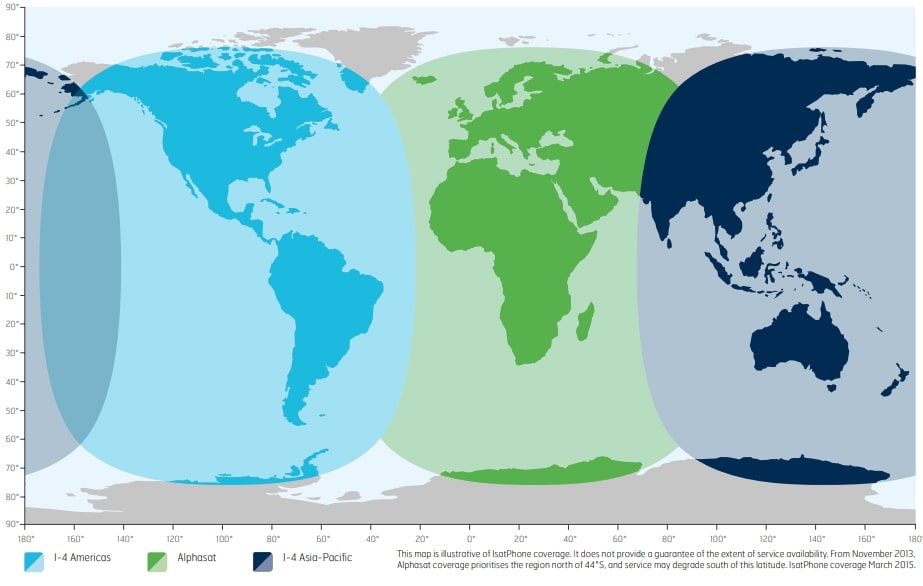 Inmarsat's S-band satellite (I-S EAN) powers the European Aviation Network (EAN), a unique and world-leading high-speed broadband solution built to meet the needs of Europe's busy airspace.
EAN combines satellite coverage with Deutsche Telekom's complimentary 4G LTE ground network to deliver cost-effective in-flight connectivity across 30 nations – transforming the passenger experience, driving operational efficiency, and opening new revenue streams for airlines.
Built by France's Thales Alenia Space, I-S EAN was launched by Arianespace as part of a dual payload 'condos' in June 2017, becoming fully operational in September 2017.